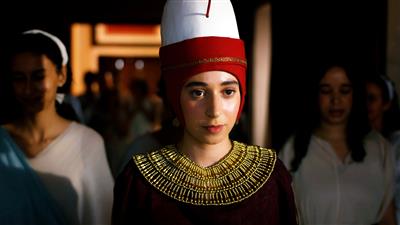 OTF Closes Pre-Sales for New Slate of Premium History Series
Off The Fence (OTF) has announced a string of pre-sales for its new slate of high-end history...
Off The Fence (OTF) has announced a string of pre-sales for its new slate of high-end history series, which ranges from OTF Studios to programming acquired from some of the most respected producers of historical documentary. The four new titles, which tackle subjects as diverse as Egypt's forgotten queens, the Mongol Empire and the 20th century's greatest military masterminds, bolster OTF's Yesterday content pillar, which focuses on premium historical programming.
Headlining the slate is Queens of Ancient Egypt (3 x 60 mins), produced by Tile Films for Curiosity Stream and OTF Studios has already been pre-sold to ARTE, Movistar Plus+, Viasat World, and SVT with more major sales expected before its delivery at the end of the year. Drawing on fascinating new discoveries and cutting-edge research, this documentary series tells the stories of three largely forgotten but incredible Egyptian queens, who became standard-bearers for their gender long before the modern era.
Also, due to deliver at the end of the year is Lion Television's Mongols: The Secret History (3 x 60 mins and 1 x 90 mins), commissioned by Smithsonian Channel and ARTE. The series, which has been pre-sold to Viasat World and AMC Networks International Southern Europe tells the story of Genghis Khan's Mongol dynasty through CGI reconstructions and rich cinematic quality dramatisations. Each episode combines epic storylines and the latest archaeological and historical revelations with the magnificent landscapes of modern Mongolia, to deliver not only an immersive and innovative TV experience, but a fresh insight into an extraordinary and little-known people.
More history series come in the form of CIC Media's Military Masterminds (4 x 60 mins) which has been picked up by Now TV in Hong Kong. Commissioned and executive produced by OTF, the series focuses on the most successful generals of the 20th century, which hold the dubious honour of being the bloodiest in history. Each of the four episodes explores a different military tactic — rapid dominance, combat power, deception and guerrilla warfare — through the lens of four military masterminds who used these strategies to deliver victory.
The second OTF Studios commission for CIC Media is History's Ultimate Influencers (4 x 60 mins), which chronicles the great leaders — spiritual, cultural, political, scientific, and sporting — such as Nelson Mandela and Marilyn Monroe, who changed hearts, minds, and the collective consciousness long before social media reinvented the meaning of 'influencer'. The brand-new series, which is due to be delivered later this year, unpacks the lives and achievements of these masters of communication, and the brilliant strategies they employed to influence the course of history.
Loren Baxter, OTF's Head of Acquisitions, said: "History content has changed out of all recognition in recent years. Gone are dry, fact-laden documentaries: today's history docs — as exemplified by these latest additions to OTF's Yesterday portfolio — are story-driven and visually stunning, with dynamic re-enactments, not too far removed from a scripted drama, with expert insights not only making sense of the past but bringing it vividly back to life."
read more
read less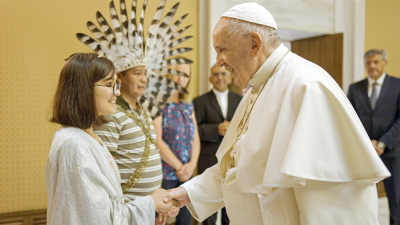 OTF Announces Premiere of The Letter: A Message for Our Earth
October 4th YouTube release to coincide with Vatican premiere and global partnership campaign Off...
October 4th YouTube release to coincide with Vatican premiere and global partnership campaign
Off the Fence (OTF) has announced details of the official release of its feature-length premium documentary The Letter: A Message For Our Earth (1 x 90 mins), produced by the Academy Award-winning creative team behind My Octopus Teacher.
The Letter is inspired by Pope Francis' encyclical, or letter, in which he calls for the people of the world to take "swift and unified global action" against global warming. With extraordinary access to Pope Francis — who is credited with doing more to fight the climate emergency than any other leader on the planet — the cinematic 90-minute film tells the stories of people from around the globe whose everyday lives have already been profoundly impacted by global warming.
The documentary will premiere on YouTube on October 4th, with a premiere event and screening also taking place at the Vatican the same day. The attendees at the Vatican will include an audience of ambassadors, leading figures in the climate debate and civil society, and representatives of the four main contributors to the film: Arouna Kande from Senegal; Chief Dada from the Brazilian Amazon; US conservationists Greg Asner and Robin Martin and thirteen-year-old climate activist Ridhima Pandey. Each contributor has been chosen to represent a voice, indigenous, poor, youth and wildlife.
The ambassadors will be drawn from countries that have historically been responsible for the climate emergency, along with those nations that are most vulnerable to it, presenting an opportunity for actors with vastly different experiences and perspectives to come together under the aegis of a global institution. On a grassroots level, thousands of private screenings will take place across six continents over the coming months.
Produced in full collaboration with the Laudato Si' Movement and the Vatican, The Letter is written and directed by Nicolas Brown (H2O: The Molecule That Made Us; The Sergengti Rules; Human Planet), produced by Ellen Windemuth (My Octopus Teacher;) and executive produced by Off The Fence's CEO Bo Stehmeier.
Bo Stehmeier said: "putting today's greatest challenges at the centre of the story, is at the core of what we as an organisation try to do – to continuously inform, explain and evaluate – and in order to do this we like to collaborate with as many voices as possible. The Letter is a powerful reminder of our responsibility as human beings, regardless of race, creed or colour, to come together in solidarity for the greater good of one another and the preservation of our planet.'
"The Letter raises up the voices of activists, conservationists, refugees and young people and centres their perspectives in the climate debate. It's an important discussion that we hope will help to galvanise not only discussion but action to tackle the difficult challenge we face together," said Dr. Garth Graham, Head of Health, Sustainability and Social Impact Partnerships at YouTube.
"We are honored to partner with the Laudato Si' Movement, The Vatican, and Off The Fence to share these important stories with the world," said Laurel Stier, Global Head of Unscripted Content, YouTube. "The Letter showcases deeply personal lived experiences, highlighting the direct impact climate change has on our global community and how we can come together to save our collective home."
read more
read less

OTF Unveils Environment/Conservation-Focused Slate Of Premium Documentary. String of new partnerships announced for five-title launch package
Off The Fence (OTF) has announced a slate of premium factual content focusing on climate change,...
Off The Fence (OTF) has announced a slate of premium factual content focusing on climate change, biodiversity, and the future of our planet, to be produced in partnership with some of the most respected names in natural-history programming.
Headlining the slate are two ambitious projects in collaboration with EarthxTV, the production arm of the non-profit environmental forum that seeks sustainable solutions to the most urgent environmental challenges. The first, The Future From Above (4 x 60 mins), is a co-production between OTF Studios, Sky, EarthxTV, Korean TV Channel, ENA(KT Skylife TV) and Borderless Lab, with funding from Korean Communications Agency, KCA.
The series focuses on how the world could look in 2050 — the defining year for our planet's future — if we embrace the revolutionary technology and thinking needed to transform every aspect of our lives, from how we communicate, harness energy and travel to how we live, eat and recycle our waste.
The second OTF/EarthxTV co-production is Ocean Mysteries (8 x 30 mins), featuring Tom 'The Blowfish' Hird, whose recent television projects include Fishing Impossible for the BBC. In his new series the marine biologist, scuba diver and wildlife expert combines stunts and pop-science demos with stunning natural history footage and engaging analogies to unravel the mysteries behind a colourful cast of ocean creatures. Oceans cover 70% of the Earth's surface, contain 90% of the planet's living biomass, produce more oxygen than all the world's forests, and absorb around 30% of global carbon dioxide though 95% of our oceans remain unexplored.
Wild Hope (8 x 30 mins), produced by the award winning, science-focused impact studio HHMI Tangled Bank Studios and Part2 Pictures in a co-production with Wild Elements, offers more optimism by profiling everyday people, conservationists and scientists who are restoring and protecting our planet. Set across the world's most beautifully exotic—and surprisingly familiar—places, each episode will inspire audiences with stories of intrepid changemakers and surprising allies who are tackling the threats to our wild creatures and habitats.
Another upbeat vision of the future is provided by The Endangered Generation (working title), which comes to OTF via a new producer relationship with Australia's Sweetshop & Green. The new feature documentary, narrated by Academy Award-winning actress Laura Dern (Jurassic Park), challenges the myth that our world is fundamentally driven by selfishness and competition. Instead, scientists, artists and First Nation leaders explore the deep connections that bind us all to life, our world — and one another.
Loren Baxter, OTF's head of acquisitions, said: "When OTF started out, our focus on natural history and the environment was considered a bit eccentric — and certainly a bit niche. Now, nearly 20 years later, the world has caught up with us and demand for the genre is fast outstripping supply. Meanwhile, we've spent those 20 years forging partnerships with world's best producers of natural-history content, which means we're in a uniquely strong position to meet that demand with balanced, accurate and informative programming and about the climate emergency and what we can do to mitigate it. These are powerful films that tackle the greatest threat to human survival, but in a way that encourages action rather than fear and despair. We're very proud to bring them to the world."
read more
read less
OTF Announces First Sales For Weasley Twins' Fantastic Friends
HBO, TVNZ and Bell Media acquire Dash Pictures' magical travel series The international...
HBO, TVNZ and Bell Media acquire Dash Pictures' magical travel series
The international distribution arm of factual content specialist Off The Fence (OTF) reports that Dash Pictures' new travel series, Fantastic Friends, has been acquired by HBO Max EMEA, TVNZ and Bell Media.
The six-part series, hosted by James and Oliver Phelps — aka the mischievous Weasley twins of Harry Potter fame — is scheduled to launch on Bell Media's Crave in Canada (in English and French) on June 17, before rolling out on HBO Max EMEA in the first territories on July 2 and TVNZ on August 6.
Fantastic Friends is part adventure-travel series, part magic-infused challenge show and part a celebration of friendship. Produced and directed by Emmy Award-nominated filmmaker Daniel Sharp (Vikings: The Rise and Fall; Disasters Engineered; Top Gear America), each episode sees the Phelps twins travel to a destination to meet up with one of their famous friends, who then take on the role of tour guide. The cast includes the twin's Harry Potter co-stars Evanna Lynch (Luna Lovegood), Bonnie Wright (Ginny Weasley) and Luke Youngblood (Lee Jordan), as well as Game of Thrones' Maisie Williams, Outlander's Sophie Skelton and The Sixth Sense's Haley Joel Osment. The action moves from Iceland to Ireland, from St Lucia to Dubai, as the twins expand their horizons and explore new worlds, while engaging in a series of magic-themed challenges and competitions.
Dash Pictures is now in production on a second six-part series of Fantastic Friends, produced by Daniel Sharp and Agata Pieczynska (For the Love of the Game; Prince Harry in Africa).
Fantastic Friends is executive produced by James Phelps, Oliver Phelps, Martin Blencowe and Daniel Sharp.
Stefanie Fischer, OTF's managing director of sales, said: "Daniel and the team at Dash Pictures have great access to some of the world's best talent and Oliver, James and friends don't disappoint. With their global and loyal fan base, we knew we'd be able to attract an array of broadcasters and platforms. The series is a fun, fresh and original travel series, with stunning locations to go alongside it."
Daniel Sharp comments, "It has been great to be able to travel again and to create this fun, daring and innovate series. It was a real pleasure to be joined by James and Oliver, who not only starred in the series but worked as hands-on execs throughout, bringing on guests as we went along. Having Martin Blencowe, the founder of Cameo, as an EP was a huge plus as he is just brilliant at putting the right talented people together."
OTF focuses on three content pillars — Yesterday (history), Today (natural history, travel and adventure, lifestyle, crime and impact) and Tomorrow (science) — across three business models: OTF Originals, OTF Studios and OTF Fast. With its focus on our relationship with ourselves and the planet, Fantastic Friends falls into the Today content pillar.
read more
read less